Best Sellers
(Last 30 Days)
---
Starship Bridge 12
(for DAZ Studio)
$10.99
---
Starship Bridge 14
(for DAZ Studio)
$12.99
---
Junior Officers Room
(for DAZ Studio)
$10.99
---
Sick Bay
(for DAZ Studio)
$11.99
---
Bimetal Robot
(for Poser)
$10.99
---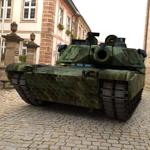 M1 Abrams Tank
(for DAZ Studio)
$14.99
---
Shuttle Type 6
(for DAZ Studio)
$10.99
---
Futuristic Hallways
(for DAZ Studio)
$11.99
---
Home > Vehicles> Aircraft > Military


SR-71 (for Poser)



---
Product Specifications:

• Offered By: Vanishing Point Owned
• Created By: Yassine

• Downloadable File Size: 9.23 M (approx.)
• Polygon Count: 45371 (approx.)
• Uploaded on: 7/12/10
• System Requirements: Windows/ Mac, Poser 5 and above
• File Format: Poser
This product contains: cr2, pp2, pz2, and/ or other Poser files.
• Texturing: Texture Maps
This product uses image maps for textures.
• Readme File: Click Here
• How do I download my purchase? PLEASE READ


---
---
Product Description

Inspired by the design of the SR 71 Blackbird Spyplane...



.: Aircraft History :.


From Wikipedia:
The Lockheed SR-71 is an advanced, long range, Mach 3+ strategic reconnaissance aircraft developed from the Lockheed A-12 and YF-12 aircraft as a Black project. The SR-71 was unofficially named the Blackbird.

The SR-71 was the world`s fastest and highest-flying operational manned aircraft throughout its career. On 28 July 1976, an SR-71 broke the world record for its class: an "absolute altitude record" of 85,069 feet (25,929 m). Several aircraft exceeded this altitude in zoom climbs but not in sustained flight. That same day SR-71, serial number 61-7958 set an absolute speed record of 1,905.81 knots (2,193.2 mph; 3,529.6 km/h). For comparison, typical commercial flights fly at an altitude of around 35,000 to 38,000 feet.

The SR-71 also holds the "Speed Over a Recognized Course" record for flying from New York to London, a distance of 5,645 kilometres (3,508 mi), at 1,435.587 miles per hour (2,310.353 km/h), and an elapsed time of 1 hour 54 minutes and 56.4 seconds, set on 1 September 1974. For comparison, the best commercial Concorde flight time was 2 hours 52 minutes, and a typical flight on a 747 averages 6 hours 15 minutes.

In 1996, the Air Force moved to ground the program. The plane was permanently retired in 1998. The Air Force quickly disposed of their SR-71s, leaving NASA with the two last flyable Blackbirds until 1999. All other Blackbirds have been moved to museums except for the two SR-71s and a few D-21 drones retained by the NASA Dryden Research Center.

From fas.org:
Developed for the USAF as reconnaissance aircraft more than 30 years ago, SR-71s are still the world`s fastest and highest-flying production aircraft. The aircraft can fly more than 2200 mph (Mach 3+ or more than three times the speed of sound) and at altitudes of over 85,000 feet.

For its reconnaissance mission, the aircraft was outfitted with an advanced synthetic aperture radar system [ASARS-I], an optical bar camera and a technical objective camera wet film system. All were once part of the aircraft`s original equipment.

The airframes are built almost entirely of titanium and titanium alloys to withstand heat generated by sustained Mach 3 flight. The aircraft`s largely titanium structure is coated with a special radar-absorbing black paint that also helps dissipate the intense frictional heat resulting from flight through the atmosphere at faster than three times the speed of sound. It also gives the plane its distinctive "Blackbird" nickname. Aerodynamic control surfaces consist of all-moving vertical tail surfaces above each engine nacelle, ailerons on the outer wings, and elevators on the trailing edges between the engine exhaust nozzles.

Although most news reports characterize the SR-71 aircraft as `radar evading`, in point of fact, however, the SR-71 was one of the largest radar targets ever detected on the FAA`s long-range radars. The FAA was able to track it at ranges of several hundred miles. The explanation offered was that the radars were detecting the exhaust plume.



.: Product Features :.



Poser figure: obj, cr2/ png.

Pilot canopy can open and close (with an ERC dial on the BODY).

Navigator canopy can open and close (with an ERC dial on the BODY).

Tail rudders can rotate (with an ERC dial on the BODY).

Landing gear can be hidden or shown.

Landing gear doors can open and close (with an ERC dial on the BODY).

Two sets of left and right wing flaps can rotate up and down.
-An ERC dial on the BODY raises or lowers both flaps.
-A second ERC dial on the BODY raises or lowers the flaps opposite each other for banking turns.

Low-polygon textured pilot and co-pilot models are included- these are separate parts which can be hidden or shown, depending on the needs of your scene.
-These were included so you can have people in your aircraft without adding a fully textured and clothed M4 figure to the scene.



.: Poses :.



Hide/ show landing gear, which also opens and closes the landing gear doors.

Hide/ show pilots.



.: Textures/ MAT Poses :.



NASA1: with a yellow stripe and black logo on the tail rudders.

NASA2: with a white stripe and red logo on the tail rudders.

Skunk: a skunk insignia on the tail rudders.

Detailed texture maps for the instrumentation panels.

Texture templates are not included; if you want to make your own textures, use the existing textures as guidelines.

Note: This model was designed for medium to long-range shots and some textures may look pixellated or blurry when viewed at very close range.




WebGL Preview provided by SketchFab
---

Was: $12.00; Save 17%
You Pay:
$9.99
Please Logon or Join Now (for free)
to purchase this product.
---
Additional Product Images
---
Customer Feedback
There is no customer feedback for this product yet.
If you would like to leave your own feedback, please Login or Become a Member (for free) and then purchase the product.