Best Sellers
(Last 30 Days)
---
Gas N Git Station
(for Poser)
$9.00
---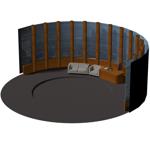 Talk Show Set PW
(for Poser)
$9.99
---
Starship Bridge Yamato
(for DAZ Studio)
$15.00
---
Grilled Food
(for DAZ Studio)
$7.99
---
Stellar Cartography Lab
(for Poser)
$9.99
---
Roman Buildings Set I
(for DAZ Studio)
$7.99
---
Futuristic Hallways
(for Poser)
$11.99
---
Modern Living Room
(for Poser)
$10.99
---
Home > Vehicles> Spacecraft > Assorted


Claw Fighter



---
Product Specifications:

• Offered By: RPublishing
-Orig. Created by:
• Created By: JHoagland and mrsparky

• Downloadable File Size: 6.66 M (approx.)
• Polygon Count: 5750 (approx.)
• Uploaded on: 11/30/04
• System Requirements: Windows/ Mac, Poser 4 and above
• File Format: Poser
This product contains: cr2, pp2, pz2, and/ or other Poser files.
• Texturing: Texture Maps
This product uses image maps for textures.
• Readme File: Click Here
• How do I download my purchase? PLEASE READ
---
---
Product Description

The Claw Attack Fighter is the most advanced attack aircraft in use by the Confederacy. Built in response to the Tenrenti`s Shred Fighter, the Claw Fighter has a turbo-enhanced engine and independently targetting wing-mounted laser cannons.


Seeing the need for a more versatile aircraft, the Claw Fighter was designed with removable wings:
For recon missions, use the vertical-winged model for faster speed.
For planetary missions, use the horizontal-winged model to take advantage of the wing`s lifting power.
For heavier bombing runs (or for fleet support), use the dual-winged model. You get the speed of the vertical wings, the lifting capacity of the horizontal wings, as well as extra firepower of the 4-wing mounted cannons.


Please note that the Claw Fighter does not come with landing gear. This was done on purpose: the Confederacy has strict rules regarding the military caste. Although the pilots` abilities are to be respected, they must never forget that they are merely part of the military system. To this end, no fighter crafts will have landing gear- pilots must rely on the hangar crew to safely guide the Claw Fighter to it`s berth.


This product includes:
-ONE (1) Claw Fighter model (obj, cr2, rsr, and png)
-THREE (3) texture sets (and MAT poses): "Standard Gray", "Flames", and "Skull"
-THREE (3) pose files to change the configuration of the wings: horizontal wings only, vertical wings only, and both horizontal and vertical wings
-Texture templates to make your own textures.
---
INACTIVE PRODUCT

This product is no longer available for sale.
If you need to re-download a previous purchase, please Contact Us and we will be happy to provide a new download link.


---
Additional Product Images
---
Customer Feedback
There is no customer feedback for this product yet.
If you would like to leave your own feedback, please Login or Become a Member (for free) and then purchase the product.
---

Free Items Recommended For Use With This Product


Claw Fighter Textures