Best Sellers
(Last 30 Days)
---
Junior Officers Room
(for DAZ Studio)
$10.99
---
Futuristic Hallways
(for DAZ Studio)
$11.99
---
Bimetal Robot
(for Poser)
$10.99
---
Starship Bridge XT 2
(for DAZ Studio)
$13.00
---
Big Trailer
(for Poser)
$10.99
---
Starship Bridge 12
(for DAZ Studio)
$10.99
---
Battle Bridge
(for DAZ Studio)
$9.99
---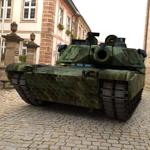 M1 Abrams Tank
(for DAZ Studio)
$14.99
---
Home > Vehicles> Aircraft > Bombers


Avro Lancaster (for Poser)



---
Product Specifications:

• Offered By: Touchwood

• Downloadable File Size: 2.91 M (approx.)
• Polygon Count: N/A
• Uploaded on: 6/17/08
• System Requirements: Windows/ Mac, Poser 5 and above
• File Format: Poser
This product contains: cr2, pp2, pz2, and/ or other Poser files.
• Texturing: Texture Maps
This product uses image maps for textures.
• Readme File: Click Here
• How do I download my purchase? PLEASE READ


---
---
Product Description

Designed by Roy Chadwick, the Avro Lancaster had its roots in the Manchester which since its inception, was plagued by instability and problems with its complex Vulture engines. Even before the Manchester flew, Chadwick realized that it had serious problems and made plans for its modification. Adding 12ft to the wingspan and replacing the Vulture engines with the Merlin V-12`s, the resulting Lancaster made its maiden flight in January 1941.The system proved quite capable from the outset and was put into production the same year that the prototype had flown. Production went at such a dizzying pace that the aircraft production lines were outpacing the engine lines. As such the American company of Packard jumped in to pick up the production slack, developing the same Merlin engines for shipment back to England. As further insurance, the Bristol company was in line with its own Hercules VI and XVI engines capable of 1,735 horsepower.

During WWII the Lancaster was the most successful bomber in use by both the RAF and RCAF. It is regarded by many as the best bomber of either side in the Second World War.It had a speed, ceiling and lifting power that no other aircraft of the day could match. With a dry weight of 36,900lbs the Lancaster could take off with an additional 31,000lbs of fuel and armament.

The Bomb Bay was a continuous uninterrupted space which stretched for 33 feet. For this reason the Lanc was versatile enough to undertake raids with large specialized weapons but meant that the wing spar was an obstacle to crew movement. The "Grand Slam", a 22,000lb bomb designed tp penetrate concrete and explode beneath ground could only be delivered by a Lancaster, so large in fact that the bomb bay doors of Lancasters would be removed to accommodate the weapon. Grand Slam-carrying Lancasters would be put to good use against the Bielefeld Viaduct in 1945, causing a great amount of damage in the process, thus it was first choice for special operations as the sinking of the Turpitz and the Dambusters raid.

Crewed by seven personnel, the system was armed with no fewer than eight defensive machine guns, mounting two in the nose, two in a top turret and a further four in a quad assembly tail turret. A ventral turret assembly was proposed as an addition but was never implemented. The crew worked in cramped conditions, the air gunners having to stay at their posts the entire journey, anything up to 10hrs. At night, the air temperature at 20,000ft frequently fell to -40 with frostbite not uncommon.

In its wake, the Lancaster outshone all of its heavy bomber contemporaries including the well-received Boeing B-17 Flying Fortresses and Consolidated B-24 Liberators, and would be a considerable reason that the Allies were able to supply such good results in their daytime / night-time bombing raids over the German-held territories.

In total, 7377 were built of which 3932 were lost in action. During the war they flew 156,308 sorties and dropped 608,612 tons in bombs and over 12,000 mines in enemy waters.

Some of the aircrafts finest hours were in non-offensive roles, the first being "Operation Manna", flying a total of 3,156 sorties to drop 6,684 tons of food to the starving Dutch in May 1945. The second saw many squadrons tasked to return Allied POW`s from various locations in Europe back to England. In total, 74,000 ex-POW`s were returned over 24 days, a total of 2900 trips.



.: Product Features :.



All features are accessed via the `BODY` tab. The model will load with this selected. All dials are grouped according to function.

Surfaces:

Ailerons, Elevators, Flaps and Rudder movement.

Ailerons and Elevators also move the Yoke and wheel.

Props:

Spin all Props together.

Spin each individual prop for simulated engine starts or more realistic motion.

Blur all Props together.

Blur each prop individually for simulated engine starts.

Undercarriage:

Tailwheel rotates and castor revolves 360 deg.

Raise main wheels together or independently. Featuring fully articulated folding gear.

Close Gear doors together or independently.

Main wheels rotate independently.

Suspension movement on lower support legs.

Guns:

Rotate Front, Mid and Tail Turrets.

Raise/Lower Front, Mid and Tail Guns.

Other:

Open/Close Bomb Doors with articulated hydraulics.

Included props:

Single bombs:

1 x 500lb.

1 x each 4, 8 and 12,000lb `Cookies`

1 x `Tallboy`

Bomb Loads:

3 Cookie combinations. Smart propped to Fuselage.

1 Bomb Bay Interior smart propped to Fuselage.

Other:

1 x PSD file. Included so that squadron or individual markings can be changed.

1 each alternative blade blur textures for colour and transparency.

This model uses a combination of procedurals and image-maps.
---

Was: $18.00; Save 28%
You Pay:
$12.99
Please Logon or Join Now (for free)
to purchase this product.
---
Additional Product Images
---

Customer Feedback

By: mac2010 on 11/24/22
[See more by this user]
Rating: 10 (out of 10)

Superbly built and textured. Looks fantastic and loads quick with all moving parts working well. Textures are great and the blank one is a bonus. I may have a go at weathering them as Il be using the model as a reference for a traditional painting so may need some exhaust smoke and general scuffery added. Very pleased overall. Cheers!!
By: maddog on 7/23/20
[See more by this user]
Rating: 10 (out of 10)

works a dream. lovely plane. gonna have lot of fun with this bomber in da studio.
By: thomaso on 6/26/08
[See more by this user]
Rating: 10 (out of 10)

Excellent model of the Lancaster. Lots of moving parts. Nice touch with the extra texture PSD file.