Best Sellers
(Last 30 Days)
---
Big Trailer
(for Poser)
$10.99
---
Battle Bridge
(for DAZ Studio)
$9.99
---
Bimetal Robot
(for Poser)
$10.99
---
Starship Bridge 14
(for DAZ Studio)
$12.99
---
Starship Bridge XT 2
(for DAZ Studio)
$13.00
---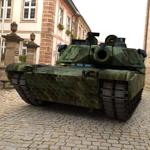 M1 Abrams Tank
(for DAZ Studio)
$14.99
---
Junior Officers Room
(for DAZ Studio)
$10.99
---
Sydney Bridge
(for DAZ Studio)
$10.99
---
Home > Robots> Alternating Robots


Astroburner Alternating Robot (for Poser)



---
Product Specifications:

• Offered By: RPublishing
-Orig. Created by:
• Created By: JHoagland

• Downloadable File Size: 8.24 M (approx.)
• Polygon Count: 47219 (approx.)
• Uploaded on: 9/13/07
• System Requirements: Windows/ Mac, Poser 4 and above
• File Format: Poser
This product contains: cr2, pp2, pz2, and/ or other Poser files.
• Texturing: Texture Maps
This product uses image maps for textures.
• Readme File: Click Here
• How do I download my purchase? PLEASE READ
---
---
Product Description

Introducing the next transformable robot in the Vanishing Point fleet: the Astroburner Alternating Robot.
Disguised as a space shuttle, this robot is capable of travelling into space, docking with unsuspecting space stations, or covertly deploying spy satellites!

Even though the Astroburner comes with three disguises (USA space shuttle, "Lunar Airlines", and "Cathy Pacific"), it was never designed to carry human passengers. In fact, opening the cargo bay doors reveals the robot-mode parts, rather than a passenger compartment.

Designed using the previous Space Shuttle Orbiter model, this product will work with the shuttle`s add-ons, including the Solid Rocket Boosters, Fuel Tank, and 747 Connectors. Note that these props are not included in this product, but are found in the Space Shuttle Orbiter product.

This model uses the same materials and UV mapping as the Space Shuttle Orbiter. This means all textures that were designed for use with the Space Shuttle Orbiter will work with this product.
Note that some minor materials (such as the "Tires", "Metal", and "Trim") have been remapped for this model... and this model uses a lot more materials in robot mode.

The head and hands are named the same as the Poser figures. This means that Poser`s Face, LeftHand, and RightHand cameras will point to the correct location... though remember that these parts are hidden in vehicle mode.



.: Product Includes :.



Astroburner Alternating Robot model (obj, cr2, rsr/ png)

Blaster Gun (obj, pp2, rsr/ png), parented to the Astroburner`s right hand.

Poses:
-Vehicle Mode
-Robot Mode
-Landed (vehicle mode)
-Level Flight (vehicle mode)
-"Tail In" (robot mode)
-"Tail Out" (robot mode)

Textures and MAT poses:
-Default Shuttle: designed to look like a typical USA space shuttle
-Blue Flames
-"Cathy Pacific", designed to look like a shuttle that could take tourists into space
-"Lunar Airlines", also designed to look like a tourist shuttle
-Yellow Flames
-Templates are included for all materials, for both the Astroburner and the Blaster Gun.

Like the original Space Shuttle Orbiter, the following parts can move:

Rudder can rotate left to right (with ERC dial on the BODY).

Landing gear can retract (with an ERC dial on the BODY).

Landing gear doors can open and close (with an ERC dial on the BODY).

All four wing flaps can rotate up and down.

Rear flap can rotate up and down.

Bay doors can open (with an ERC dial on the BODY).
This version of the space shuttle includes equipment inside the bay doors... which is actually parts of the robot!

In robot mode, you get the usual body parts: head can rotate, arms, hands, and legs are posable.
To make positioning the fingers even easier, both hands include ERC dials for "Grasp" and "ThumbGrasp".

Please note that alternating between vehicle and robot mode does *NOT* require the use of Poser`s Hierarchy Editor to make parts visible or invisible. The process is done entirely by rotating and moving parts to hide them behind other parts. This makes the figure great for animation.
You can try changing modes yourself... but if you get stuck, use the included "robot" and "vehicle" poses.

Note: This product is "optimized" for use in Poser 5 and above: it uses jpg bump maps and reflections. These may not render properly in Poser 4.

Bonus: Includes 1000x750 pixel instruction manual (in gif format) showing how to transform the figure from vehicle to robot mode. (Instruction sheet does not have the word "sample".)

Here`s a video showing the Astroburner transforming from space shuttle to robot mode. This video shows the included "Blue Flames" texture.

---
INACTIVE PRODUCT

This product is no longer available for sale.
If you need to re-download a previous purchase, please Contact Us and we will be happy to provide a new download link.


---
Additional Product Images
---
Customer Feedback
There is no customer feedback for this product yet.
If you would like to leave your own feedback, please Login or Become a Member (for free) and then purchase the product.